The 5 Most Popular Christmas Tree Toppers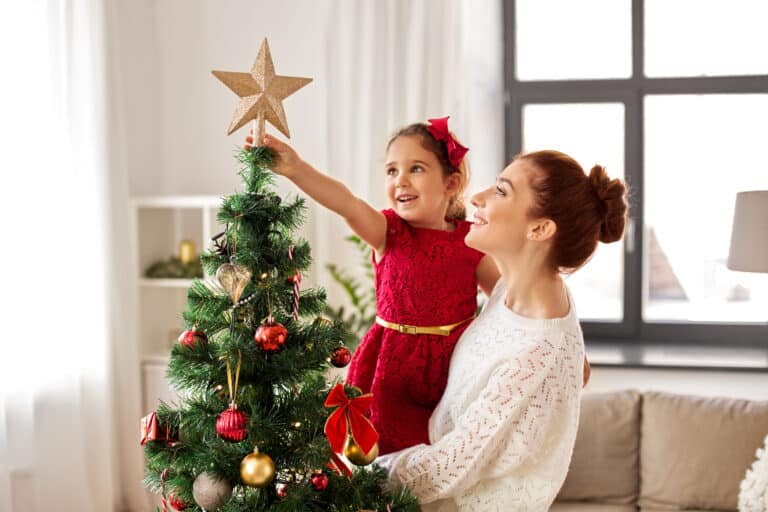 Nothing says "It's Christmas!" like a Christmas tree. But what's a Christmas tree without an iconic topper crowning it? Placing an ornament on the Christmas tree has been a tradition passed down for generations for over 400 years. But today, the choice of topper can send a message to all who behold. The star reminds us of the guiding star of the wise men, and the finial elicits a Christmas angel.
While there are no compulsory ornaments to set on your tree, each country, culture, and family has particular preferences on what toppers are favored. Some see it as an opportunity to express their creativity and create their unique topper. Today we see bows, ribbons, bouquets, LED-lit toppers, and many more figures used to adorn the Christmas tree top.
This blog will go through some of the most popular Christmas tree toppers you can choose from.
Star
The star of Bethlehem was the guiding light for the three wise men who would pay homage to baby Jesus. In more Christian religious families and countries, the star is both popular and symbolic. 
The star comes in several variants. You can take your pick from sparkling crystal stars, gold stars even rustic wooden stars if you're into that. Whatever your aesthetic, modern, traditional, LED, or Glass, there is a star topper for you.
Angel
If you lean towards the celestial like most people, the angel Christmas tree topper is it. The best Angel toppers are made of handwoven material and often have lights that give it that glow that gives your tree the angelic feel. It is easy then to see why it makes the list of the top Christmas topper ornaments the world over.
Santa Claus
For those with an affinity to the north pole, Santa Claus would make a benevolent presence atop their Christmas tree. He always has a smile on his face and has the effect of spreading Christmas cheer around the room. There are several variants of this topper, him on a sleigh, him with a bag of gifts, him with his reindeer or him slipping into a chimney. It is a popular choice for households with little children. This one keeps the Christmas spirit alive.
Snowflake
What is Christmas without snow? The snowflake is the defacto symbol of the winter season. And so it is only natural for the snowflake to rest on the Christmas tree. They add a cozy atmosphere to the space. There are different kinds of snowflake tree toppers, the light-up snowflake, silver glitter snowflake, or crystal snowflake tree topper. Whatever your preference, classic or modern, there is a snowflake topper to fit your need.
Finials
If you have the space, the finial is sure to draw attention. Shaped like a church steeple, the finial pays tribute to its religious origins in 19th-century Germany. The finial glitters and shines in a display perfect for Christmas. 
Visit Holiday Road LA This Christmas
A tree-topper not only accentuates your tree but also dictates the tone for the holiday spirit in your space. Whatever your choice, any one of the above listed is a great pick for any theme or budget you choose for your Christmas decorations.
Looking for more ways to add to your family's Christmas traditions? Visit Holiday Road Los Angeles this holiday season! This exciting all-ages event has stunning light displays, visits from Santa, delicious food trucks, and more, all right here in Los Angeles.